Author Tom Collins Takes Break
From Murder and Mayhem To Take a Selfie
AK Llamas' "#NashvilleSelfie" project incorporated 100 selfie photos of residents of Music City that were printed onto t-shirts and hung on Deaderick Avenue as a modern public art installation. As a distinguished contributor to the literary community and a Tennessee resident and native, author Tom Collins was invited to participate in this project.
"The '#NashvilleSelfie' project celebrates the community by celebrating its faces," said Collins. "The community is both the art and the spectator."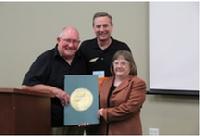 Proclamation Recognizes Achievements
Tom Collins 'Achieves Excellence' As He Receives High Honors From The Tennessee House of Representatives
During his most recent business seminar, "Achieving Business Success For The Long Haul," hosted by the Williamson County Public Library, the Honorable State Representative Glen Casada presented Tom with an official proclamation from the Tennessee House, recognizing his contributions to the literary community in both fiction and non-fiction, his past endeavors as the founder of Juris Inc. and his success in the information technology and legal industries.
"Tom Collins truly has achieved excellence with his past endeavors in the legal world, information technology industry and literary community. We are excited to honor him with this very special proclamation." – State Representative Glen Casada
The free business seminar included participants from all walks of life as Tom shared his secrets to success. As he described his "formula to attain lasting superior performance" within an organization, attendees received an introduction to his latest literary success, The Language of Excellence.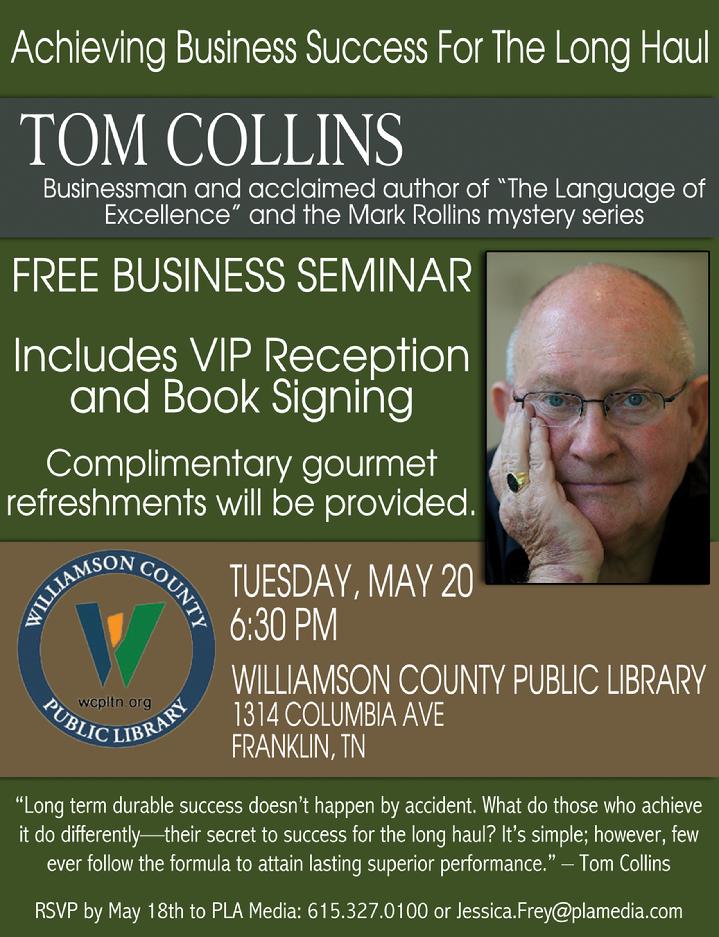 Mystery Writer Speaks on Leadership
Click on the PDF icon to read what a Writer Digest Judge said about The Claret Murders.
Whodunit? Local author uses Brentwood Belle Meade for Book--Click on PDF icon for more
Southern Festival of Books
Tom Collins is one of the authors featured in the
25th annual Southern Festival of Books

. He will be reading from and discussing his novel, The Claret Murders. The event is a Celebration of the Written Word, October 11-13, 2013 at Legislative Plaza and the State Capitol in downtown Nashville. The Festival is a free event with no registration or tickets required. Author sessions take place in the hearing rooms of the Tennessee Legislature, located beneath Legislative Plaza (main entrance at 6th and Union) and in the Tennessee Capitol Building (main entrance on Charlotte). All author signings, take place in the Author Signing Colonnade, located at the top of the steps leading from Legislative Plaza to War Memorial Auditorium.

Invitation
Historic Belmont Mansion Was Haunted by Modern Day Murder Mystery Local Author Tom Collins Played Host to "The Plot Thickens" to Promote Adult Literacy in Middle Tennessee Nashville, TN - - July 17, 2013. One of Nashville's most notorious mansions played host to a mystery presented by one of the city's most notable authors. Tom Collins' The Plot Thickens mystery event took place July 30th at the famous Belmont Mansion. It featured characters, clues, and a heaping helping of Collins discussing his newest book, The Claret Murders.
The event raised money for the Nashville Adult Literacy Council, a non-profit organization that teaches adults to read "When people can read, they have opportunities far greater than those available to people who can't read," Collins explains. "I find it mind-boggling that one in eight adults in the U.S. can't read. I want to do my part to change that."
Barnes & Noble at Vanderbilt Event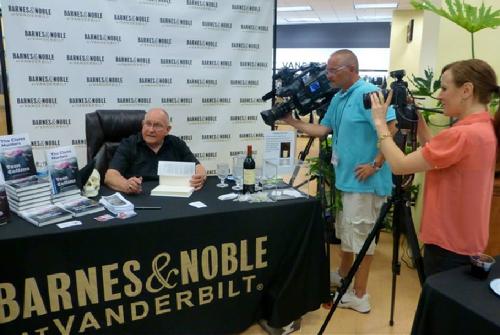 Signing event June 22, 2013
Great event. Nashville's local Fox News covered the event. In addition to signing The Claret Murders, I discussed the changing publishing industry and what it means for authors and readers. There were a lot of questions about the writing process. Where do the ideas come from? Do you prepare an outline, etc? I think many were surprised to discover that I do not work from an outline. I start with a couple of ideas and then let the characters take the story where they will. I expanded that just as a reader has to unravel the mystery, I am doing the same thing as the author--often letting the characters clime out on a limb and then trying to figure out how to get them back down.
Two people won the right to have a character named after them in the next mystery:
Connie Maynord and Kathie Fuston. The big winner of the event was May Skinner who won a 27-year-old bottle of Claret from my private cellar.
Books Inspire Growth (BIG) Spotlights Nashville Mystery Author, Tom Collins

On Tuesday, June 7th, Coral Ridge Country Club hosted a BIG Breakfast, featuring celebrated Nashville Mystery Author Tom Collins. The BIG (Books Inspire Growth) Breakfast brings together business owners who come to see how books indeed inspire growth. The monthly event features authors who come and tell their stories of struggles, success and entrepreneurial spirit. Collins presented materials from his current work in progress with the working title The Pursuit of Excellence--Leading @ the Speed of Sight.
Attendees delighted in the inspiration Collins shared at the breakfast left with a personally signed copy of his latest mystery, The Claret Murders.
The event was a sell out with over fifty register attendees!
WHEN: June 7, 2013 8:00am - 9:30am

WHERE: Coral Ridge Country Club 3801 Bayview Drive Fort Lauderdale, FL 33308
April 9, 2013--A tea at Belmont Mansion: The author joined fifty ladies and gents for tea in the historic Belmont Mansion from 5:00 to 9:00pm on April 9th. In addition to signing his books, Tom Collins read from his latest novel, The Claret Murders, and discuss the changing world of books as well as his conversion from business executive to mystery/adventure author. Belmont Mansion's meticulous restoration and unique role in the history of Nashville and the South draws visitors eager to hear its story from all over the country, Canada and the United Kingdom.
Veteran Agent Tapped to Represent Mystery Author Tom Collins
Author Tom Collins, Agent Carey Burch and PLA Join Forces
Mrs. Mick Hendrickson was the winner of the Sherlock Bear during the December 1st Middle Tennessee Book Festival event held at the Maury County Library in Columbia Tennessee.
Franklin LIon's Club event October 23, 2012: Giselle Moshier won a copy of The Claret Murders and Edwin Myers will have a character named after him in the next Mark Rollins adventure mystery.
Book Tasting event at Landmark BookSellers Sept 13, 2012: Sue Hadfield won the drawing to have a character named after her in the next Mark Rollins mystery adventures and Julie Gillen won a gift card.
My Favorite Art Feature
Nashville Arts Magazine October 2012 Issue
Tom Collins is now hosting a two active blogs,

E-Mysteries and
whataboutebooks
, dealing with the digital mysteries and the creative destruction in the book economy as we evolve from a print to a digital age. From a business standpoint the change will create new winners and a lot of old losers. For readers there are benefits. For authors there are new opportunities--for agents and publishers that don't adapt--"not so much." The second is
i65northblog
and is Collins vehicle for shareing his core business beliefts and the managment concepts followed by his team that propelled his company's business sucess.
Look Who is Reading The Claret Murders
copyright © 2008—2015 M. Thomas (Tom) Collins
Website powered by Network Solutions®